While it's a learning curve and new territory for all of us, the inaugural Bloodstock South Africa monthly online sale closed for bids a few hours ago with everybody looking forward to the July sale.
Monthly sales will be held hereafter on the first Friday of every month, closing the following Thursday at midday, and will be open to the entire spectrum from weanlings, yearlings, broodmares to unraced and horses-in-training.
Top seller of the inaugural edition was the 'select mare' of the June sale catalogue in many people's opinion.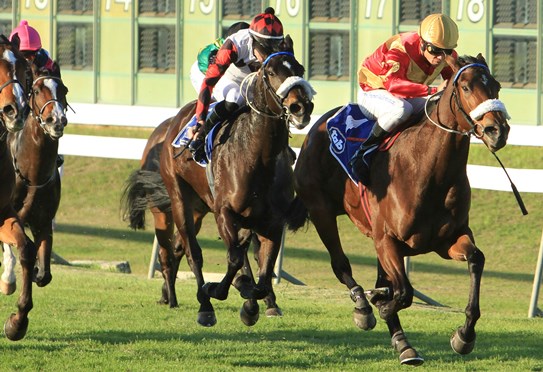 Petala seen winning the Gr3 Kenilworth Fillies Nursery in 2015
Petala (#23) is a stakes winning Captain Al half-sister to the well performed Doublemint and was snapped up by Summerview Stud for R114 000.
Petala won three races, including the 2015 Gr3 Kenilworth Fillies Nursery, in the care of Justin Snaith.
She is out of the Tale Of The Cat mare, Nepeta and was bred by Alec Foster, who also raced her in the family's very familiar scarlet and gold silks.
Summerview's Colleen de Klerk was thrilled with the purchase and said that the decision to buy was motivated by an intention to upgrade their current broodmare band.
She gave a thumbs up to the new online platform and said it was 'both user friendly and exceptionally convenient'.
The scenically beautiful Summerview Stud is nestled in a quiet lane in the middle of Summerveld, and is owned by Colleen and her husband, Gary De Klerk.
The De Klerk's neighbour, leading breeder Lee Scribante of Piemonte Stud, said that Petala ticked all the boxes and congratulated them on an astute buy.
Scribante also said that the streamlined simplicity and convenience of the sales platform means that even the 'senior generation' could use it without aggravation or fear of complications.
"Internationally, it's been proven to be the way of the future and once market acceptance is there and conditions improve, I have no doubt that it will become the norm," said Scribante.