While Hawwaam was the undisputed attention grabber on Classic Day, the back story to the Diane Stenger-trained High Seas Beauty's smooth victory in the R250 000 Gr3 Acacia Handicap is a tale of great horsemanship, attention to detail and a mini dream come true.
The Blyth family of Clifton Stud have been breeding  since 1945 and some of their more familiar big names in recent years include Classic Flag, the 1998 Durban July winner and SA Horse of the Year, who was trained by Peter Blyth's brother in law, David Ferraris.
Other notable Clifton Stud products include Fort Vogue, Bezanova, What A Lady, Olympic Flag, Glenrossal, Covered in Snow, Duffi's Call and Royal Desire.
Saturday's Acacia Handicap winner High Seas Beauty, a  Fairview Thoroughbreds bred daughter of High Chaparral out of a well related daughter of Belong To Me, was purchased as a weanling by Kerry Jack in Australia.
She sold for R1 million on the CTS 2015 Ready to Run Sale at Durbanville to Mayfair Speculators.
High Seas Beauty won twice in nine starts for Mike de Kock and came up on the 2018 Super Sale at Greyville as part of the Markus Jooste unbundling, where she was astutely acquired for R110 00 by Peter Blyth.
"I actually purchased her as a broodmare. She is not a huge girl but she is all quality. Mathew de Kock pointed out to me at the sale that I must be wary when I touch her back. She had her issues. It wasn't legs though – it was all behind the saddle. I took her home and thought we'd give her some time. I had Beth Shaw's team work on her weekly for 6 weeks. I felt she was so well bred – I just needed some black type on her page. I sent her to Diane Stenger at Randjesfontein where I felt she would get personal attention," recalled the veteran breeder.
It was decided as part of the mare's rehab to get her a companion, who would also work with her as she was sticking up on the track.
"Peter White kindly gave us a horse who we had bred called Tern Unstoned, who became High Seas Beauty's companion. He lived right next door, worked with her – went with her everywhere. He was at the track as her companion on Saturday and was there to greet her afterwards!"
After a blank first two runs, High Seas Beauty found her feet and won for Diane Stenger at her third start.
She didn't seem to enjoy Muzi Yeni in the Magnolia, but bounced back to win at her fifth jump under Randall Simons. She ran two subsequent thirds under Simons and then scored her dream win under Richard Fourie on Saturday.back
"It's amazing when things go your way, they go your way," said the top Cape jockey after High Seas Beauty had produced a storming finish to beat Anneka by 1,80 lengths in a time of 98.9 secs to win the R250 000 Gr3 Acacia Handicap.
Fourie said that the daughter of High Chaparral had lacked pace early but that she had won full of running.
"Her pony kicked her on the way to the start. But she just kicked him back," added the delighted Fourie.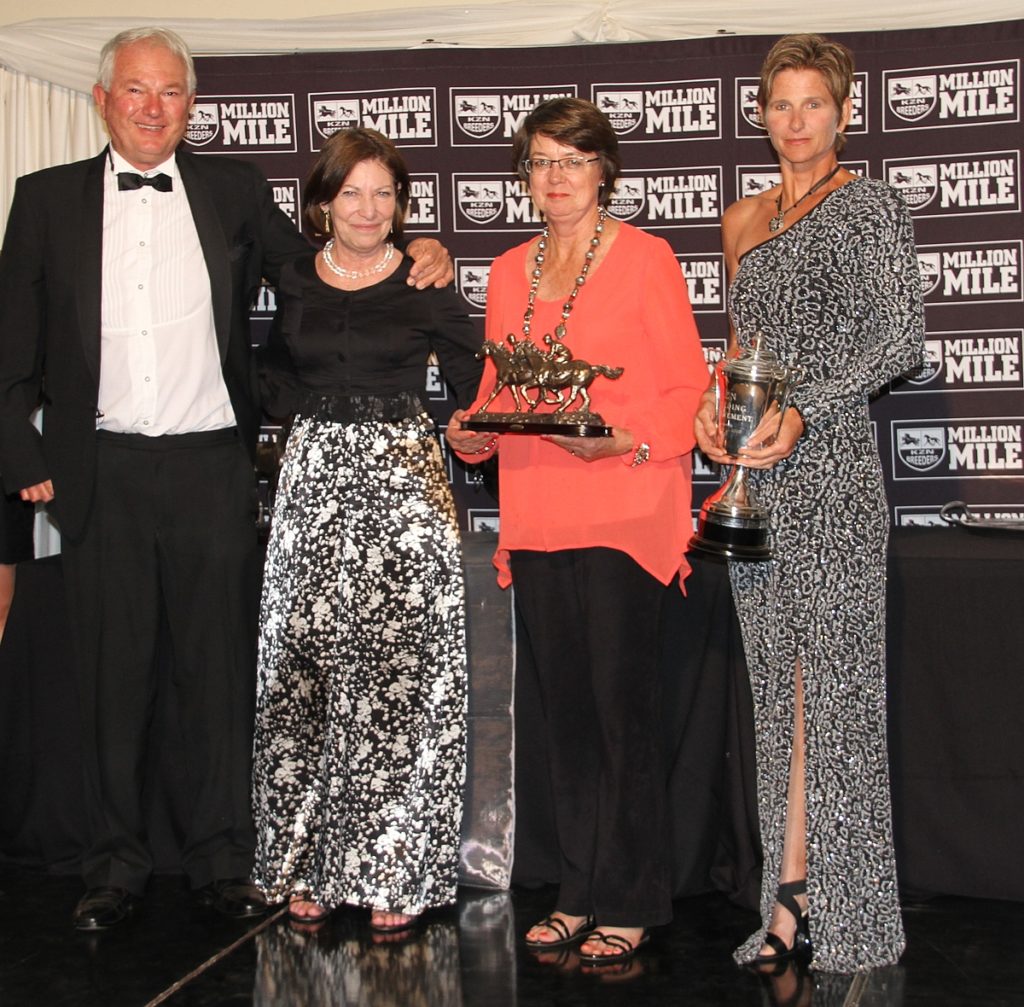 The winner is out of the Belong To Me mare Attessa, who won at a mile in the USA and is a half-sister to Delta Form out of the Australian Oaks and Guineas winner Arborea.
High Seas Beauty has now won 5 races with 8 places from her 18 starts for stakes of R534 625 and has the all important black type strike on the board.
"I am absolutely over the moon. A great job by Beth Shaw, Diane Stenger and all of their staff. I will be sending High Seas Beauty to the Cape. I haven't given much thought to a stallion yet, but it is pleasing when a good gut feeling turns into a plan come together," said a thrilled Peter Blyth.
-sportingpost.co.za