A new vendor name in next week's BSA National 2yo Sale catalogue is Grace Stables.
Winnifred Grace Fourie has been fascinated by horses since before she could walk. Growing up as a farm girl she had her first horse by age 6 and never grew out of her love for the animals.
Her father, 'Smiler' Fourie was a cattle auctioneer so Winnie was surrounded by animals and the buzz of the sales ring her entire life.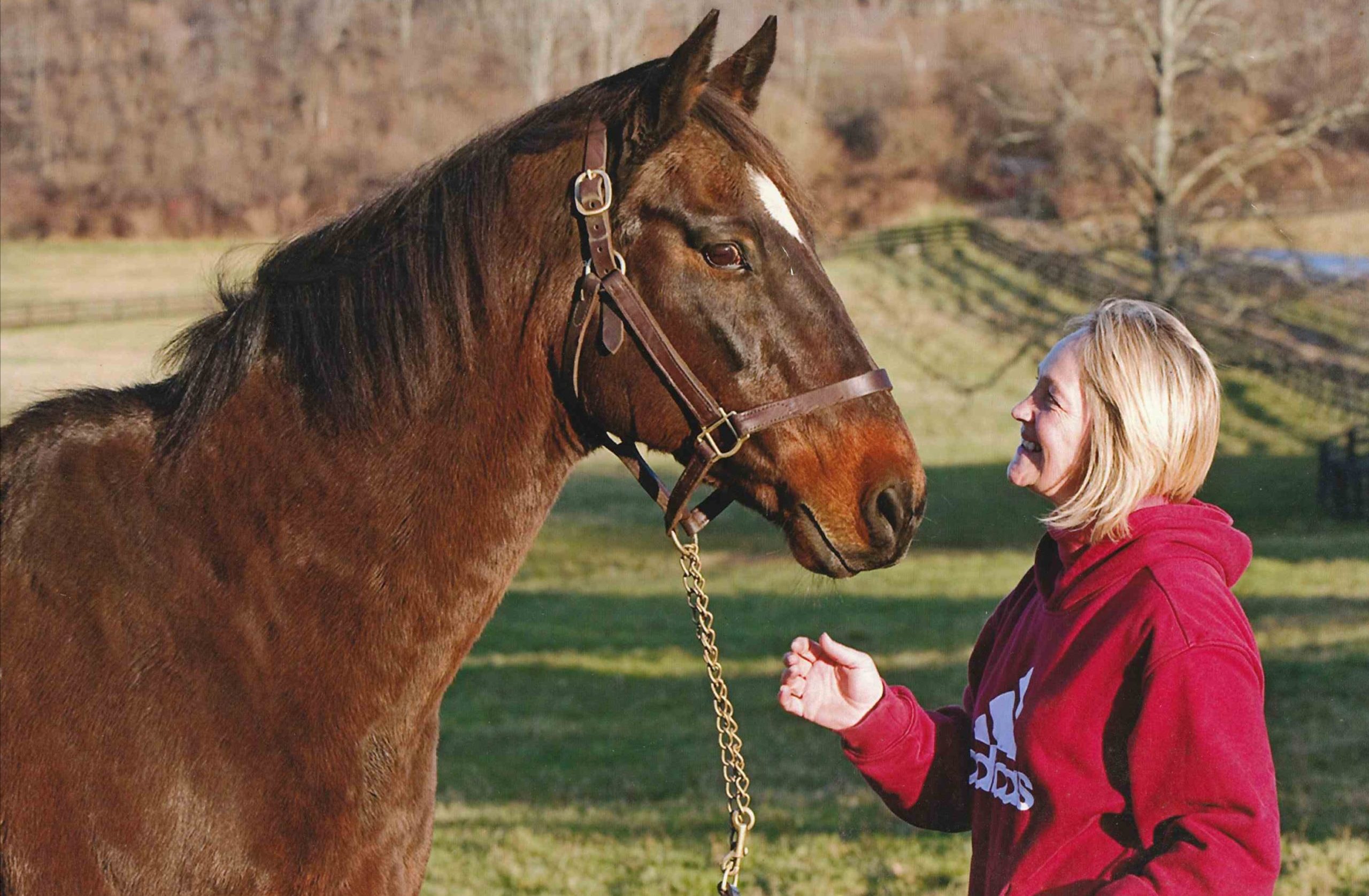 Winnie Fourie – connecting with her horses
"It's difficult to truly know when my love for horses began. My passion for horses was always there within me since before I can even remember. All I know was that it was from a very young age and my love for horses continued to grow and still continues to grow today," Winnie says with a smile.
"There of course have been times when I wasn't involved with horses at all, when I was at school or studying at university. I would drive past and see the horses in the paddocks and wish I could be surrounded by them again. I was a farm girl at heart even then and I don't think I ever grew out of it."
Winnie only joined the thoroughbred industry at the age of 29. She had been working as management on a piggery when she decided she couldn't do it anymore. Applying to an ad in the Farmers Weekly, a South African couple in the USA were looking for an intern on their very own stud farm.
"I sent my application through and a week later I got a call from them asking if I was interested. My visa was quickly sorted and off I went to the USA. That became my introduction to the Thoroughbred industry," she says.
After arriving in the USA and being immersed in the world of broodmares, foals and yearlings. Winnie had found her passion.
"The mares and foals will always be my favourite aspect of the industry. I did a few yearling sales too and eventually travelled to New York for another internship with the well-known Becky Thomas and her company- Sequel Stallions. So really, my introduction to the industry began in America."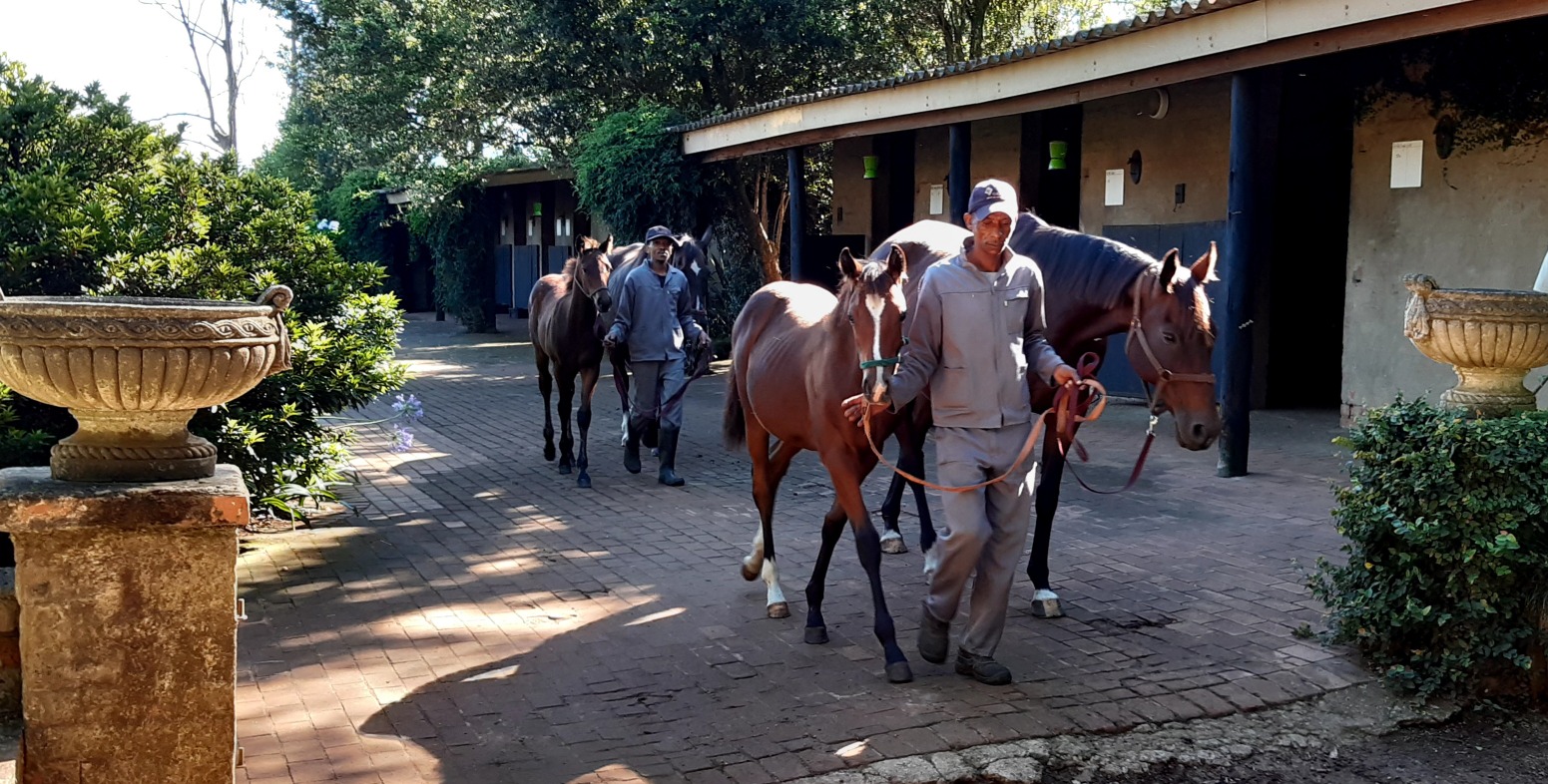 The Grace Stables mares & foals heading to their paddock for the day
She spent fourteen years in the USA, seven as an Assistant Manager to Becky Thomas at Sequel Stallions in New York at her breeding stud.
After struggling with her Green card for a while, Winnie eventually moved to another stud farm, Stonewall Farm in New York, for the CEO of Calvin Klein.
"He always had a passion for horses, so when the opportunity came for him to get a farm of his own, he took it. I ended up working for him for five or so years.
"During that time, I really got to experience working with some top horses. At Sequel I had the pleasure of working with Freud (Storm Cat x Mariah's Storm by Rahy) who is the full brother to Giant's Causeway. He is still one of New York's leading Sires!
"At Stonewall Farm, I was fortunate enough to work with a horse called The Lumber Guy, who ran second in the Gr1 Breeders' Cup Sprint. My time in America was truly well spent and I got to work with some incredible horses. When I came back to South Africa, I was able to use all the knowledge I had gathered over the years and I went to work at Klawervlei Stud for a short stint, just to help out at their quarantine station during the breeding season.
"After that I went to Scott Bros Farm and I worked with them for almost 5 years until the dispersal sale. I have now been fortunate enough to start up on my own with Grace Stables.
"Coming up with a name was a bit of a headache, and everything happened so quickly. My last day was on 31 July at Scott Bros and a week later I was out on my own. A client of mine came to visit Scott Bros in that final week, to possibly buy a horse or two. He told me that if I ever decided to go out on my own, he would support me.
"He ended up sending me twelve of his horses and I had one of my own in the stable. Off we went to Backworth Stud, who had offered to lease me stables and paddocks. It then seemed fitting to use the name Grace, which is my middle name. I'm a big believer and I have faith in the world, having grace that things will all turn out how they're supposed to."
Grace Stables located at Backworth Stud in KZN
While things haven't been all smooth sailing for Winnie, when her first batch of horses left there was a lull at the yard.
Fortunately, Fanie Bronkhorst sent her a few of his mares and she then met another individual who has now shown her massive support and continues to send her mares, foals and youngsters.
"I know that with my clients' support and through God's grace, things will continue to grow, and the name Grace Stables has become the perfect fit."
With the BSA 2 Year Old Sale in less than two weeks, Winnie will be sending three colts to the sale under the Grace Stables banner as a first time vendor.
Lot 307 is a colt by Crusade out of Enchantrix named Kimbolton Castle.
Winnie describes him as an impressive individual and while he is a second foal, his dam is a half sister to the mare Siren's Call who has just produced the Gr1 performer and Gr3 winner Sound Of Warning. He is described as a tall, well-balanced and striking individual.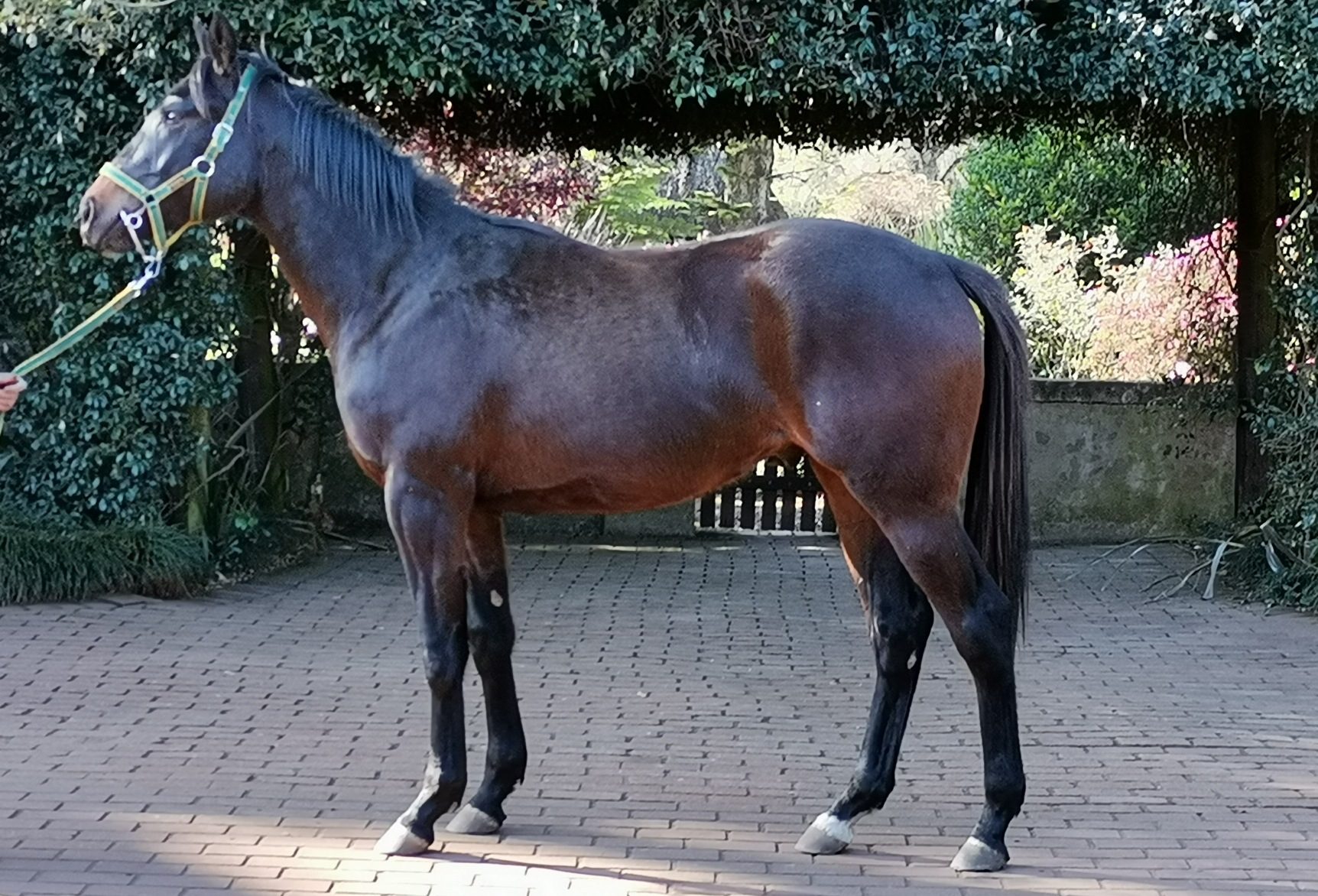 Lot 307- Kimbolton Castle (Crusade x Enchantrix)
Lot 218 is named Kodiak Island by Wings Of Desire out of an imported mare Vul Indlela from France.
He is a first foal and his dam was apparently imported by the Oppenheimers, as far as Winnie knows. He is a bit smaller being a first foal but she says there is something special about this colt. While his pedigree may not be as strong, all the colts in his family have performed well and been multiple winners.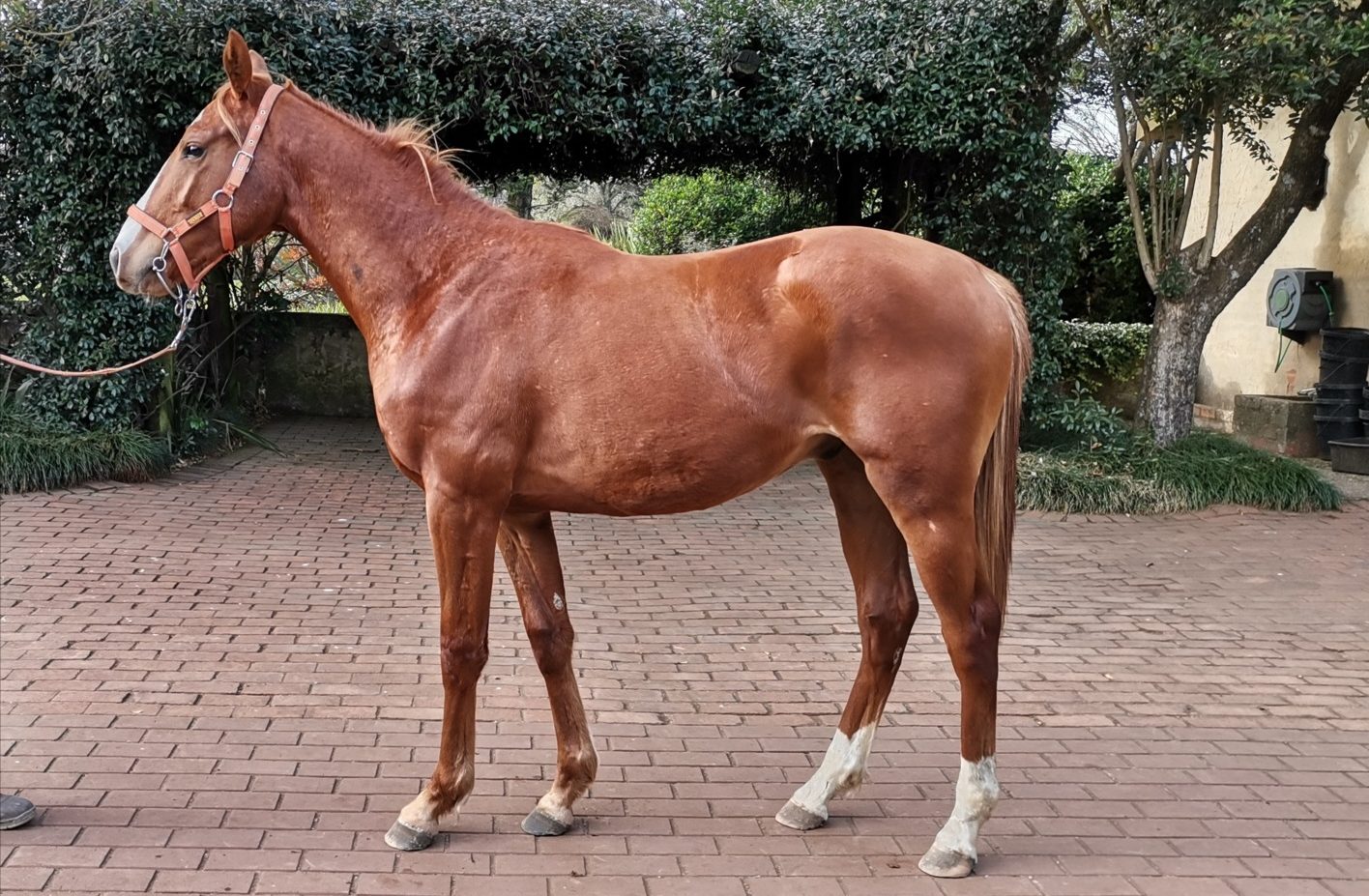 Lot 218- Kodiak Island (Wings Of Desire x Vul Indlela)
Lot 25 is an unnamed colt by Mambo In Seattle out of Ikati.
Winnie describes him as a seriously impressive colt, strong and compact. The breeding is what really drew Winnie to him. She points out that the Mambo In Seattle cross with Al Mufti on the dam's side has produced multiple Group winners in the past. She expects it could be the same for this colt.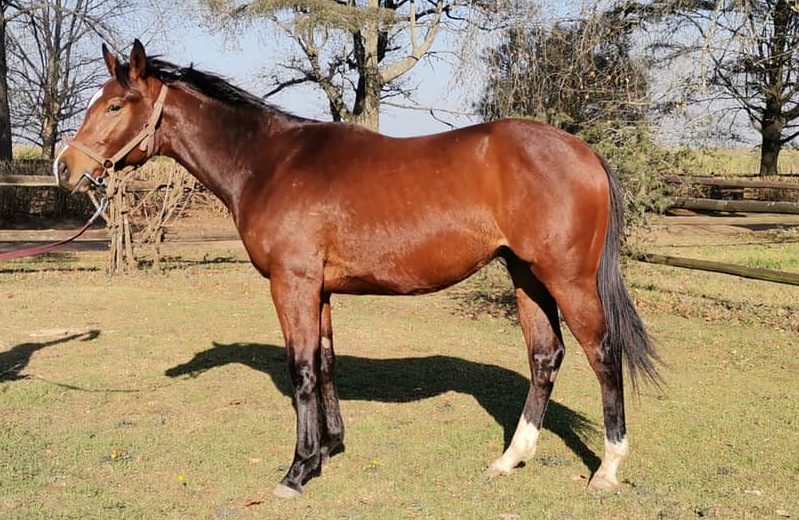 Lot 25- Unnamed (Mambo In Seattle x Ikati)
"Those are my three boys at the sale, they are all so different and they all offer something unique to all buyers," Winnie tells the Sporting Post.
"We have also had the wonderful Snow Palace with us recently for a break, and she ran a lovely third after returning to work from her holiday. It was good to see her back in the money and actually show an interest in running again.
Snow Palace enjoying her break at Grace Stables before returning to work
"I always have and will continue to follow any horse I have spent time with over the years, from foaling them down to sales prep or even spelling. It is such a pleasure to see horses succeed and knowing that I have played a part, whether it be small or big, in their success.
"That is why it is so important to generate trust with every horse I work with. That is the main focus of Grace Stables – building a foundation based on trust and each horse will grow to be the best they can be!"
-sportingpost.co.za